HOW DO MORE BLADES GIVE YOU A CLOSER SHAVE
Using a perfectly designed blade gives a great start to your shaving routine. Which is why we recommend the 3-bladed Gillette Mach3 razor and 5-bladed Gillette Fusion razors. But how do more blades help?
Facial Skin
Facial skin is soft and malleable, almost like a gel. And, the hair of your beard is dry, coarse and hard like copper wire. Your hair resides in the hair follicle under the skin that allows the hair to move in and out. Gillette multi-blade razors are designed specifically to leverage this characteristic movement of facial hair inside the hair follicle:
More Blades and Closer Shave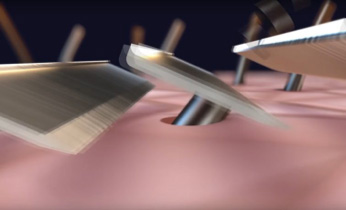 The first blade cuts the hair and gently lifts it from the skin during the process.
Before the hair fully withdraws itself, the next blade cuts it further down.
This process is called hysteresis and was discovered in the late 1960s when Gillette developed its first multi-blade razor. The process of hysteresis ensures the right shaving process and also the fact that it cuts the hair till the starting point of the beard hair. Hence, more number of blades can cut the hair closest to the skin, and this will help you achieve a close and clean shave.
Simply put, more blades definitely help give you a closer shave. So buy the Gillette Mach 3 or Gillette Fusion razor today to experience the power of a close shave.