Description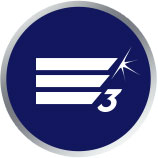 SHARPER BLADES*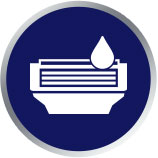 LUBRICATION STRIP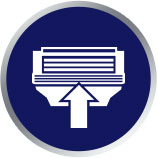 MICROFIN SKIN GUARD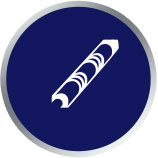 PREMIUM HANDLE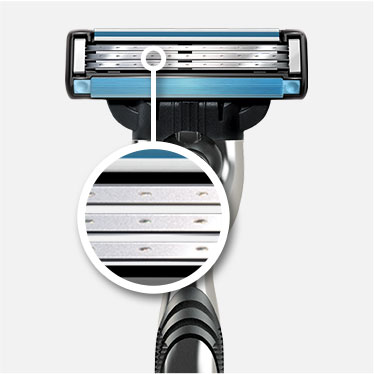 3 BLADE TECHNOLOGY
provides glide and comfort
INDICATOR LUBRICATION STRIP
fades to white when shave is no longer optimal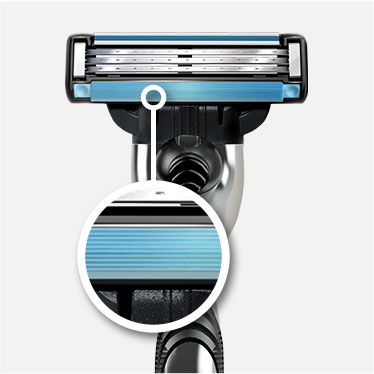 ADVANCED MICROFIN COMFORT GUARD
features 5 Microfins for a comfortable close shave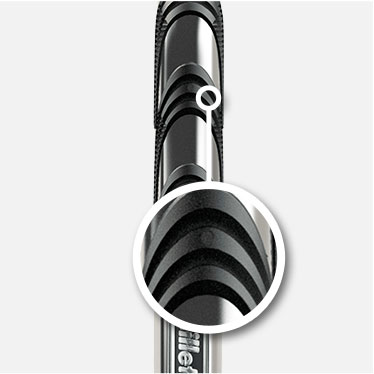 ERGONOMIC HANDLE
gives great control in every shave
| | | | | | |
| --- | --- | --- | --- | --- | --- |
| | Mach 3 | Mach 3 Turbo | Fusion | Fusion Proglide Flexball | SkinGuard |
| Blade Count | 3 | 3 | 5 | 5 | 2 |
| Main Benefit | Closer Shave, without all the redness | Closer Shave, without all the redness | Advanced 5-blade technology for enhanced comfort even on sensitive skin | Close shave, with FlexBall technology, responds to contours and gets virtually every hair | Comfort shave, revolutionary SkinGuard technology that minimizes contact between the blades and your face |
| Lubrication | Gel Strips | Comfort Gel Bar | Indicator Lubrication Strip | Indicator lubrastrip | Double lubrastrips (before and after the blades) |
| Number of Microfins | 5 | 10 | 10 | 10 | 10 |
| Handle Technology | Premium Ergonomic with Elastomer Grips | Premium Ergonomic with Elastomer Grips | Premium Ergonomic with Elastomer Grips | Premium Ergonomic with Elastomer Grips | Premium Ergonomic with Elastomer Grips |
| Blade Suspension | Blade Suspension System | Blade Suspension System | Blade Suspension System | Blade Suspension System | Blade Suspension System |
| Precision Adjusting Pivot | Yes | Yes | Yes | Yes | Yes |
| Precision Trimmer | No | No | Yes | Yes | Yes |
| FlexBall Technology | No | No | No | Yes | No |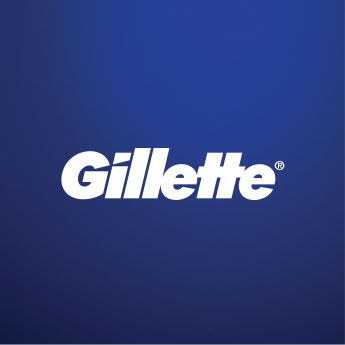 Frequently Asked Questions
What's the difference between a Gillette two-blade disposable and a Gillette Mach3 razor? Unlike the Gillette two-blade disposable, Gillette Mach3 has three DuraComfort blades that give a closer shave, without all the redness*. The responsive blade suspension keeps the blades in close contact with your skin, and the pressure-adjusting pivot adapts to contours for an easier*, more comfortable shave.
What's the difference between Gillette Mach3 and Gillette Fusion? Unlike the Gillette Mach3, the Gillette Fusion features five blades that are spaced closer together* to help reduce pressure on each blade and a precision trimmer for those tricky places.
*vs. all Mach3 Razors
Is it better to use hot, cold, or warm water to shave? Warm water is best for hydrating beard hair. Soaking in warm water softens hair and causes it to expand, making it 70% easier to cut.
Manufacturer: Gillette Poland International SP. z o.o., Ul. Nowy Józefów 70, 94-406 ?ód?, Poland. Contact: 022-24942113 Packer: Procter & Gamble Home Products Private Ltd, Plot No.1, Indl Area, Villate Katha, Baddi, Dist Solan, HP-173205 Comments/Complaints, call CONSUMER RELATIONS on 022-24942113 Importer: Procter & Gamble Hygiene and Health Care Limited, P&G Plaza, Cardinal Gracias Road, Chakala, Andheri (E), Mumbai – 400099. Comments/Complaints, call CONSUMER RELATIONS on 022-24942113 Country of Origin: Poland
6 Reviews
Gillette mach3

Nice product.... Looks genuine

Best razor

Best razor in the market. I used coupon code VIOFF26 and get extra discount.

Gillette mech3 razor

Smooth N best for shaving