Description
Sleep worry-free with Whisper Bindazz Nights! Whisper Bindazzz Nights pads ensure up to 0% leaks because they are 75% longer & have a wider back vs regular pads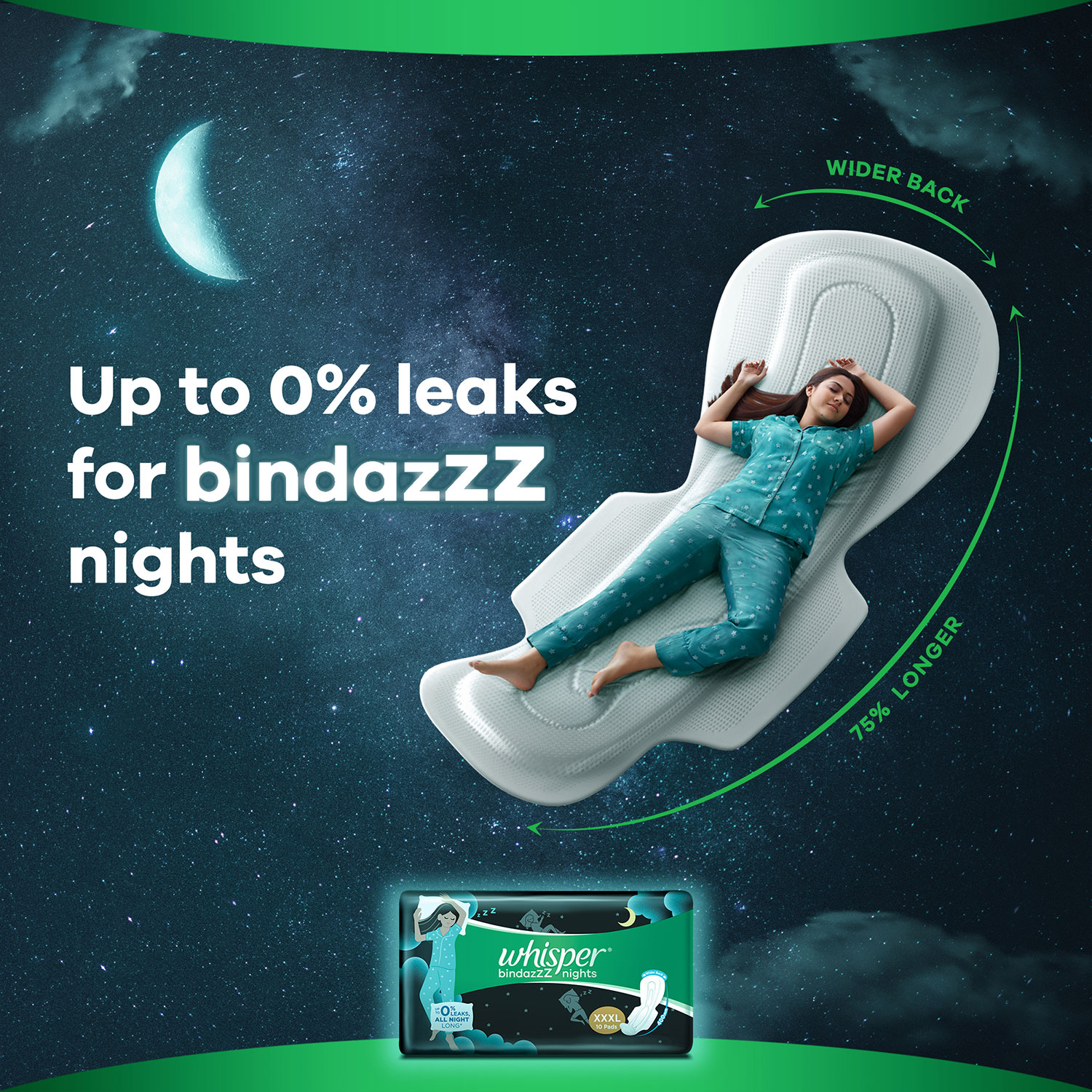 Manufacturer:  Made in China. KNH Enterprise (Shanghai) Co. Ltd. Address: No. 5619, Wai Qing Song Rd. Qing Pu TownShanghai 201707 China, Contact: 022-24942113 Packer:  Made in China. KNH Enterprise (Shanghai) Co. Ltd. Address: No. 5619, Wai Qing Song Rd. Qing Pu TownShanghai 201707 China Comments/Complaints, call CONSUMER RELATIONS on 022-24942113 Importer: Procter & Gamble Hygiene and Health Care Limited, P&G Plaza, Cardinal Gracias Road, Chakala, Andheri (E), Mumbai – 400099. Comments/Complaints, call CONSUMER RELATIONS on 022-24942113 Country of Origin: China
35 Reviews
So soft and secure!

It's super duper soft and has two pairs of stick able wings!!And the packaging is so damn cute. I love how the pads are covered in cute koala outer packaging. I am all for utility but I have a soft spot for cute things. This is going to be my regular purchase along with whisper pink packet. Now I just need a cottony soft varient for days with less flow (I use stayfree now but would like to switch to whisper as it's softer (

Wrothy

It's rally worthy product with no leakage and longer duration usage

No.1 Quality

Very nice in absorbency ,comfort and softness, i am very happy to buy this product , please go for it

Apt for excess flow/ Night use

Can be used for excess flow and night use. No rashes and makes us feel dry

Perfect for Pre-Teens and Teens!!

Other pads were boring and i had to sleep in one position at night to prevent leakage, but this one was big, had a veey cute packaging and the pad was very cute, i loved this for my first period??????

Very good

Come exactly same which is shown in the picture and obviously the price is less than the body price

Very good and useful

Very useful. Very good product ever I have used so far at night. No leaking. No tension.