Description
Our No 1 Hygienic Protection Range
Germ Lock Technology that locks wetness, odour & germs
Nearly 40% Longer for long lasting coverage
DRI Weave cover that absorbs in seconds
Delightful scent for all day freshness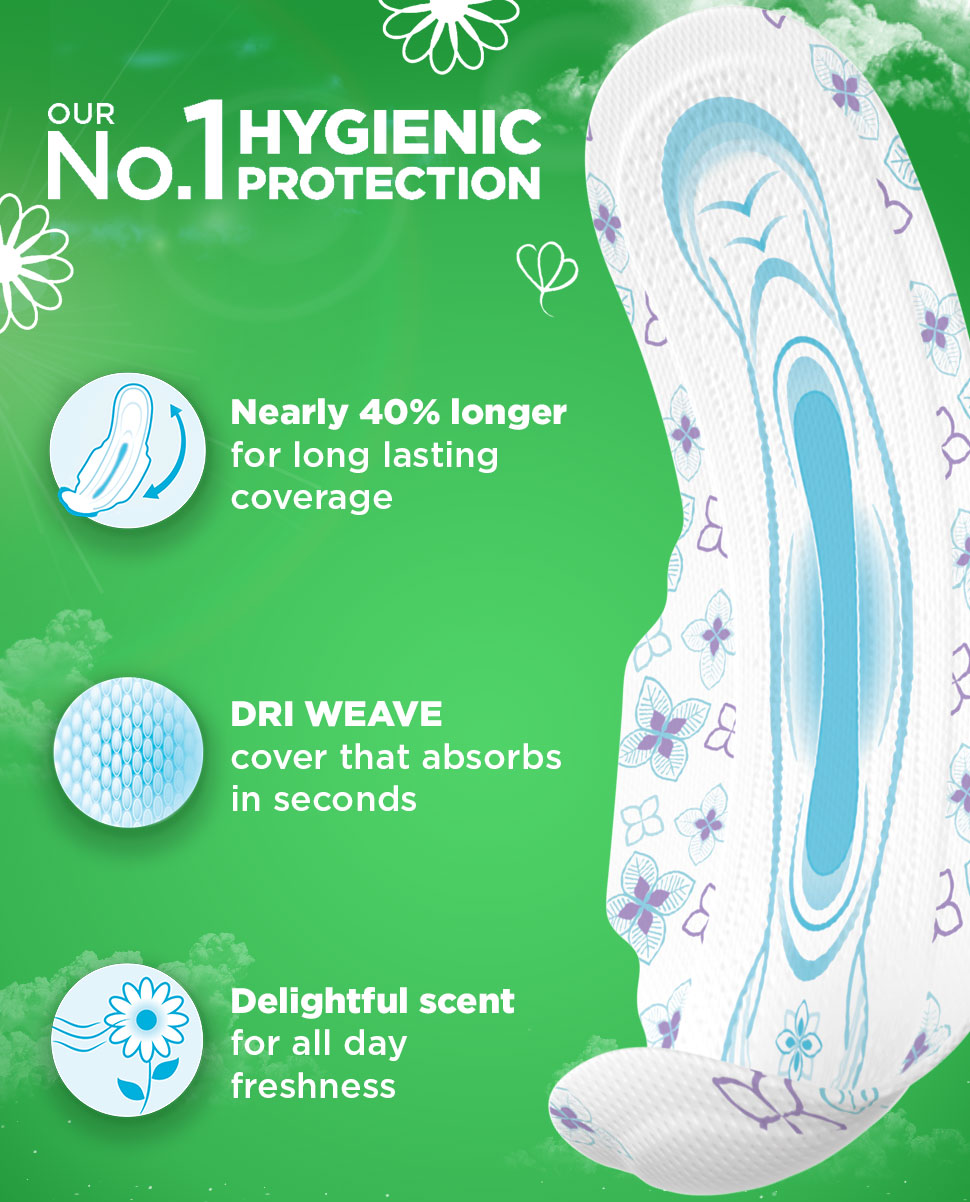 Manufacturer: Procter & Gamble Hygiene and Health Care Limited, Plot No. 173, Kundaim Industrial Estate, Kundaim, Goa 403 115 India. In case of P. manufactured by Procter & Gamble Hygiene and Health Care Limited, Plot No. 173, Kundaim Industrial Estate, Kundaim, Goa 403 115 India and packed by Prasad Enterprises, Plot No. 282, Kundaim Industrial Estate, Kundaim, Ponda - Goa, 403115, India. Contact: 022-24942113 Packer: Procter & Gamble Hygiene and Health Care Limited, Plot No. 173, Kundaim Industrial Estate, Kundaim, Goa 403 115 India. In case of P. manufactured by Procter & Gamble Hygiene and Health Care Limited, Plot No. 173, Kundaim Industrial Estate, Kundaim, Goa 403 115 India and packed by Prasad Enterprises, Plot No. 282, Kundaim Industrial Estate, Kundaim, Ponda - Goa, 403115, India. Contact: 022-24942113 Importer: Procter & Gamble Hygiene and Health Care Limited, P&G Plaza, Cardinal Gracias Road, Chakala, Andheri (E), Mumbai – 400099. Comments/Complaints, call CONSUMER RELATIONS on 022-24942113 Country of Origin: India
120 Reviews
Excellent!

Really it's helpful to pass the toughest into easier..It's absorbed everything and helpful to keep dry.

Excellent!

My best friend since so long now.... anyone with heavy bleeding!!!! Just buy this!!

Excellent!

Excellent product for all age woman's . Recommend in all my friends family .

Excellent!

Whisper is my all time favourite brand. From 1st time untill now we use only this brand. So try almost all the variety of it. And most of them are excellent.

Great!

for me i have heavy flow but whisper is a trusted brand i only use this. and my family too.

Excellent!

Excellent products.........................,........................

Excellent!

Great product for heavy flow and is very comfortable. It fits properly and length is also enough to prevent leakage

Excellent!

Good product it is a nice. Wishpers is very comfortable product

Excellent!

Its comfortable and easy to wear . Nothing to worry about protection and very much comfortable to go to college and for outing with my friends.