Description
75% longer & wider back so you are covered from leaks from all sides.
Upto 0% leaks all Night long
Dual action gel that locks wetness and neutralises odour
DRI weave top cover that absorbs in seconds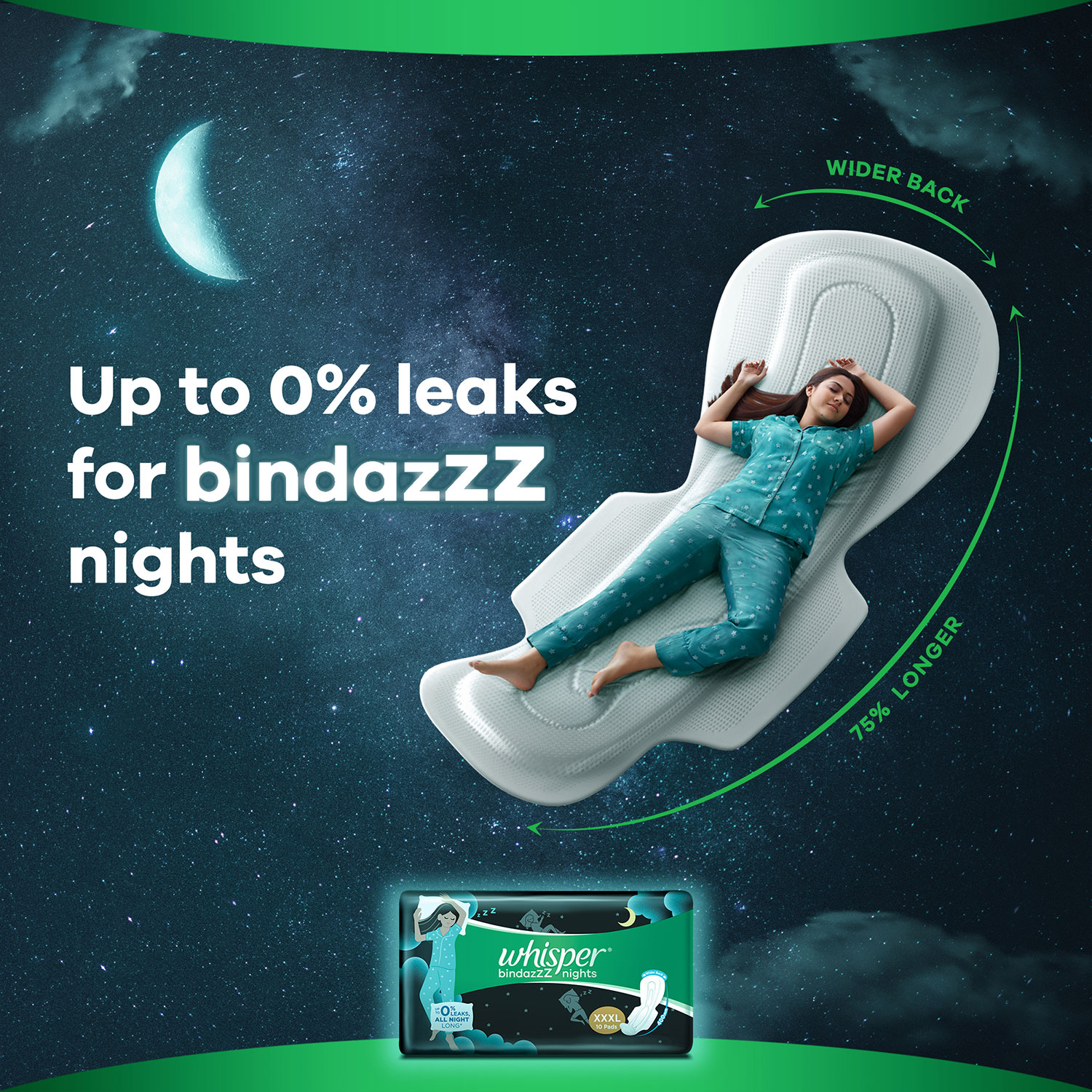 Manufacturer: Procter & Gamble Hygiene and Health Care Limited, Plot No. 173, Kundaim Industrial Estate, Kundaim, Goa 403 115 India. In case of P. manufactured by Procter & Gamble Hygiene and Health Care Limited, Plot No. 173, Kundaim Industrial Estate, Kundaim, Goa 403 115 India and packed by Prasad Enterprises, Plot No. 282, Kundaim Industrial Estate, Kundaim, Ponda - Goa, 403115, India. Contact: 1800-202-1364, Chat with us on WhatsApp +917314718350. Packer: Procter & Gamble Hygiene and Health Care Limited, Plot No. 173, Kundaim Industrial Estate, Kundaim, Goa 403 115 India. In case of P. manufactured by Procter & Gamble Hygiene and Health Care Limited, Plot No. 173, Kundaim Industrial Estate, Kundaim, Goa 403 115 India and packed by Prasad Enterprises, Plot No. 282, Kundaim Industrial Estate, Kundaim, Ponda - Goa, 403115, India. Contact: 022-24942113 Importer: Procter & Gamble Hygiene and Health Care Limited, P&G Plaza, Cardinal Gracias Road, Chakala, Andheri (E), Mumbai – 400099. Comments/Complaints, call CONSUMER RELATIONS on 1800-202-1364, Chat with us on WhatsApp +917314718350. Country of Origin: India
Key Features:

Whisper Ultra Nights- Worry free Sleep
7 Reviews
Whisper XXXL

Good but expensive

Recommended

Helpful for women who experience heavy period flow.

Whisper bindazz nights xxxl

Very good product

exc ellent

satisfied with quality and more than its value to any time all over

happy me

i am super happy with the product. I can sleep at peace without having any worry about leakage. the pad is very soft and i never get any rash.

Best

Best protection during period at night.feel free to use.

Very Comfortable

In Period days using Whisper is the right choice even it can stop heavy flow. I am very happy using this product.